April 9th, 2021
Office, Retail, Industrial, Investment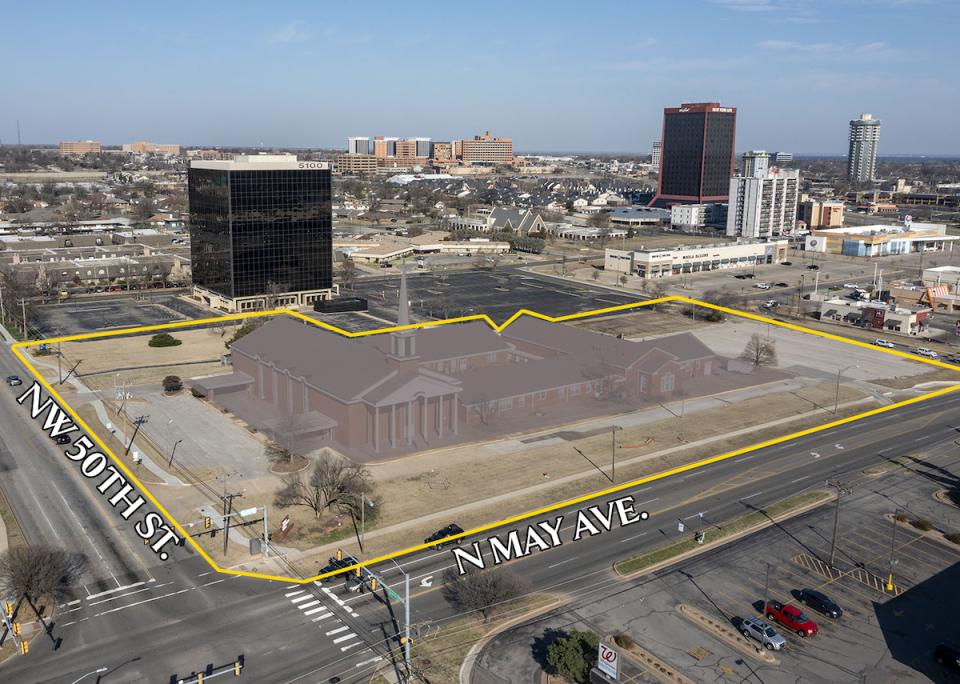 March 2021 was a great month and we are excited to see what all April has in store! Please see below for a selection of our March transactions.
Investment Property Sells For $2,450,000
A hard corner parcel at NW 50th and May Ave, previously the home of church, sold for $2,450,000. The site contains approximately 3.5 acres and the church building was approximately 50,000 SF. The new owner plans to redevelop the site. Paul Ravencraft & George Williams, CCIM, with the Retail Investment Team handled both sides of the transaction.

Industrial Building Sells For $760,000
Blackbeard, LLC paid Press NRG $760,000 for an 8,200 square foot industrial building on 6 acres at 1253 State Highway 92, Tuttle.  This particular property was a unique offering to the Tuttle area; as not many properties become available with Highway 92 frontage.  The property was under contract in a matter of days.  Danny Rivera  handled the transaction. 

Industrial Building Sells For $500,000
Dave's Man Caves, LLC purchased 1209 N Council Road from James R Revocable Trust/Sammy C Revocable Rust for $500,000.00. The property is located just north of NW 10th Street and Council Road. The property is approximately 7,600 square feet and is broken up into 4 separate units with it being 50% occupied. The previous owner has always been able to keep the property leased, whether it was for local tenants looking for storage space or even a lawn-care maintenance group. Jacob Simon and Chris Roberts handled the transaction. 

92,676 SF of Industrial Space Leased
138 Farms Management, LLC leased a 92,676 square foot property at 24304 Amah Parkway in Claremore.  They are a Medical Marijuana grower out of Colorado who are expanding their operation into Oklahoma. The size of the property and the rent rate were both contributing factors in their selection process.  Josh Love handled the transaction. 

Health Care Services Leases Additional 26,560 SF at IBC Center
Health Care Service Corporation ("HCSC") leased 26,560 square feet of additional office space in IBC Bank Center at 3817 NW Expressway, Oklahoma City. HSCS is the licensee of Blue Cross Blue Shield in Oklahoma and four other states. The expansion brings their total space leased at the building to over 60,000 square feet. The company is the third largest health insurer in the United States and was one of four selected by the Oklahoma Healthcare Authority to provide managed care for the expansion of Medicaid in Oklahoma. Craig Tucker handled the transaction. 
19,420 SF of Retail Space Leased
Green Country Workforce has leased approximately 19,420 SF of office space in Eastgate Metroplex.  This property was originally developed as Eastland Mall by Simon Property Group in 1984 and was built to serve East Tulsa as an alternative for Woodland Hills Mall.  The mall died a slow death and was repositioned and redeveloped in 2007 and began to cater to primarily larger office users and call centers.  With over 1,000,000 SF and abundant parking, Eastgate boasts an impressive tenant roster with multiple Fortune Top 100 companies.  Eastgate Metroplex is located at 14002 E. 21st Street in Tulsa, OK. Matt Surrett with Price Edwards & Company (Tulsa) provided brokerage services to the Tenant in the transaction.