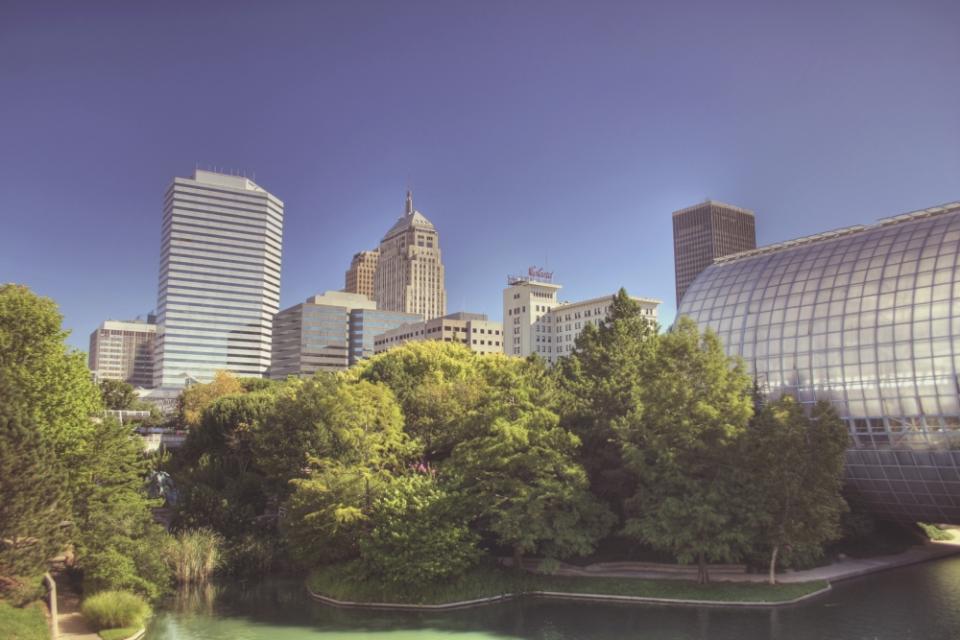 In February 1987 I received a phone call from Ford Price, President of the Sweetser Companies, a well-known and respected third-party commercial real estate company specializing in office properties. Tom Denner, the Godfather of commercial leasing in Oklahoma City, gave my name to Ford and thought I might be a good fit for an office leasing agent alongside Craig Tucker. I am not sure how many people interviewed for the leasing agent position, but Jim Fiedler, the CFO, and partner said, "Let's give the Aggie a shot." I started March 16, 1987, working for the Sweetser Companies-- I was the 11th employee.  I remember telling my dad I was going to work for a bunch of guys in their 20's on a straight commission basis and his response was, "Are you sure that's a good idea?" It was the best career decision I ever made! 
Chan Sweetser, a developer from Boston, came to Oklahoma City during the oil boom of the late 70's early 80's.  He developed Lakepointe Towers, MidFirst building (AKA Triad Center), Grande Center, One Corporate Plaza and other office buildings in north Oklahoma City. Ford worked for Chan the summer of 1980 as a project manager for Lakepoint Towers with intentions of heading back to college to get his MBA. Chan said to Ford, "You don't need an MBA if you really want to learn, stay here and work for me and I'll raise your pay." 
In July of 1982 Penn Square bank failed and Oklahoma City went spiraling downhill. Ford and partner Jim Fiedler, CPA bought out Chan and became the new owners of The Sweetser Companies.  Ford has always been wise beyond his years and realized the office development days in Oklahoma City were over for a little while, and many buildings were going back to the lenders who were large insurance companies such as Travelers, Hartford, Teachers, and Lincoln National. The Sweetser Companies' business model pivoted from development to third-party services since these insurance companies were not set up to manage out-of-state commercial properties. Ford was the first in Oklahoma City to make the change, and he contacted these lenders, and soon Sweetser Companies became the largest third-party commercial property management, leasing and tenant construction company in the state of Oklahoma.   
In 1988, The Sweetser Companies (office experts), Edwards & Company (retail experts) and Henderson Properties (multi-family experts) formed Price Edwards Henderson & Company. Eventually, the Henderson portion was bought out by Ford Price and Carl Edwards in 1990 to form Price Edwards and Company. While the company has grown to about 200 people, Ford Price, Jim Fiedler, and Craig Tucker are the owners, managers and the one constant since 1986. Price Edwards remains the largest third-party commercial service firm company in Oklahoma, having closed thousands of transactions worth over $5 billion.