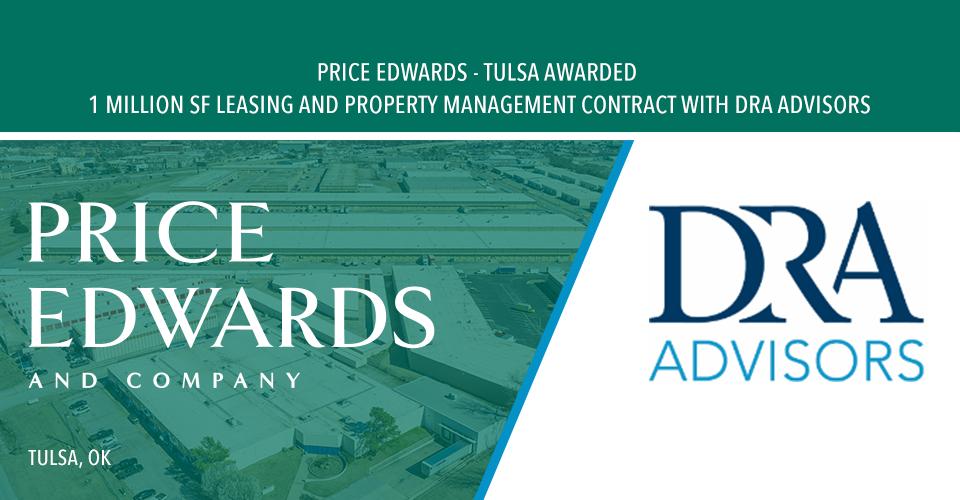 Price Edwards & Company – Tulsa is pleased to announce that it has been awarded the leasing and management assignment for a 1,100,000 +/- SF industrial portfolio recently purchased by DRA Advisors from Helmerich & Payne Properties. The August, 2020 transaction included six properties located in midtown Tulsa varying from flex/light industrial space to distribution/ warehouse space. The portfolio includes:
· Space Center 495,000 SF
· Space Center East 202,500 SF
· Tulsa Business Park 204,500 SF
· Tandem Busines Park 88,084 SF
· Maxim Center 40,800 SF
· Maxim Place 33,750 SF
"Price Edwards is grateful for the opportunity to assist DRA Advisors in the leasing and management of its newly purchased Tulsa assets. We are excited to work with the new owner to provide many upgrades to the properties that include signage, painting, and parking lot projects and be a part of the next success story for this portfolio," said Tanda Francis, Managing Broker in Tulsa for Price Edwards & Company.
The DRA Tulsa industrial portfolio offers a variety of unique leasing opportunities available for small, medium, and large size businesses at very competitive rates. The DRA Tulsa purchase adds to their two million square foot industrial portfolio in Oklahoma City that is also managed by Price Edwards & Company. All Tulsa leasing inquiries should be directed to Tanda Francis and Josh Love at (918) 394-1000 (www.priceedwards.com).
Price Edwards & Company is a full service commercial real estate company providing property management, construction, leasing and brokerage services to a variety of third-party owners and investors. The firm, in operation since 1988, is headquartered in Oklahoma City, OK with a full-service office in Tulsa, and is comprised of over 200 professionals with in-depth experience in all property types including office, retail, industrial, and multi-family.