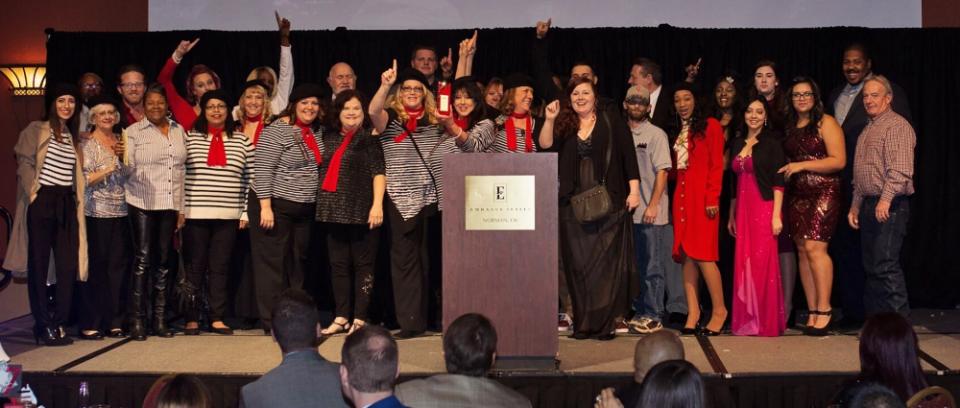 Price Edwards & Company was named Management Company of the Year at the 2017 Nova Awards, presented by the Apartment Association of Central Oklahoma.  The ceremony was held December 9th at the Embassy Suites in Norman, Oklahoma.  
"'Management Company of the Year' tells a story of an incredible group of people who have successfully come together with a single goal in mind:  to manage and represent our property owners and their plans for the community, using each team member's skills, experience, and education to bring those plans to fruition," says Becky Sesock, Senior Vice President of Price Edwards & Company's Multifamily Division.
"I'm extremely proud of these hardworking employees," says Ford Price, Managing Partner.  "They sacrifice a lot to meet the goals of our company and property owners."
Price Edwards' Sharon Clark Inducted into Hall of Fame
Sharon Clark, a Senior Regional Manager with Price Edwards' Multifamily Division, was inducted into the AACO Hall of Fame during the 2017 Nova Awards.  Ms. Clark has over 30 years' experience in the apartment industry, ranging from new construction to rehab, and is HCCP certified.  During the awards, Ms. Clark was also recognized as Property Supervisor of the Year. 
Price Edwards manager Gaye Peacock was also named Manager of the Year for communities up to 300 units at the 2017 Nova Awards.   
Page Woodson Honored as Renovation of the Year
The Page Woodson Apartment Community, which is managed and leased by Price Edwards, was named Renovation of the Year.  Page Woodson features a mix of new construction and historical structures, including the former Douglass high school that has been redesigned as modern apartments.