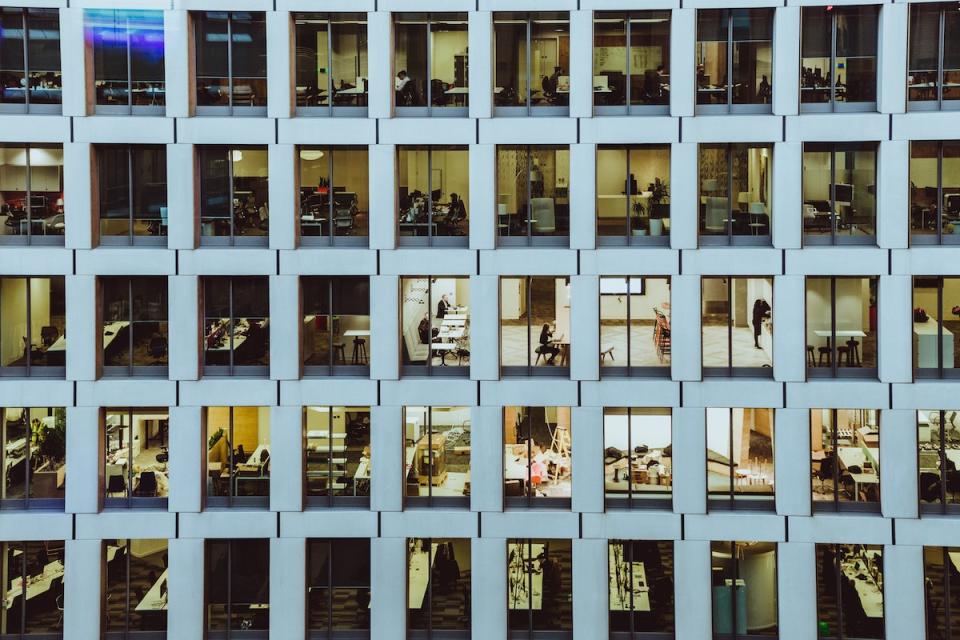 It feels like I am asked every day if the office market will ever rebound to pre-pandemic levels.  As someone who mostly makes their living leasing office space, I always take the optimistic viewpoint even though at times it felt like I was whistling through the graveyard.  Lately though, I am becoming more convinced that my optimism is not misplaced.  Various opinions ranging from CEO's of international companies to members of my own family have led me to believe that the "monumental" shift in workers' and companies' attitudes toward their workspace may end up being no more than a mile marker along the business career highway.
The Wall Street Journal had an article this week entitled "What CEOs Really Think About Remote Work".  As you might expect, opinions varied, but there is a pronounced attitude shift toward reopening offices. 
Netflix CEO Reed Hastings commented "I don't see any positives.  Not being able to get together in person, particularly internationally is a pure negative."
Jamie Dimon of JPMorgan Chase & Co opined "I think going back to work is a good thing.  I think there are negatives to working from home.  We've seen productivity drop in certain jobs and alienation go up in certain things. So we want to get back to work in a safe way."
Apple's Tim Cook stated "In all candor, it's not like being together physically. And so I can't wait for everybody to be able to come back to the office.  I don't believe that we'll return to the way we were because we've found that there are some things that actually work really well virtually."
Of course, there are still dissenting opinions on the matter.  Facebook's Mark Zuckerberg commented "I think we're going to be the most forward-leaning company on remote work at our scale, for sure, but we're going to do this in a way that is measured, and thoughtful and responsible, and in phases over time."   I think it is worth noting that Facebook just this month purchased REI's 400,000 SF corporate headquarters building near Seattle, so despite Zuckerberg's comments, that's a significant hedge on his remote work bet.
And Blackrock's Larry Fink - "I don't believe Blackrock will ever be 100% back in the office.  I actually believe 60% or 70%, and maybe that's a rotation of people, but I don't believe we'll ever have a full cadre of people in the office".
Closer to home, at least for me, is the experience of my daughter and her husband in New York. They both work in the city, but fortunately live in Brooklyn, which provides more of a neighborhood atmosphere than the deserted canyons of Manhattan.  They have each been working from home since the first of March. In fact, my daughter started a new job on March 2nd.  She has never been to her office other than for her interviews.  She only knows her co-workers from Zoom calls.  My son-in-law's company had signed a lease for new offices in Manhattan and were just about to move in when the pandemic hit.  They have never occupied the space.  They sent everyone home and said not to expect to be back in the office until January 2022.  They even told him he can live anywhere within 3 time zones of the corporate headquarters. 
Initially, they preferred working from home and the freedoms it provided.  Fortunately, their brownstone allowed for them to work on separate floors and be productive without interruption.  Now they would sprint back to the office - provided it is a safe environment.  They crave the social interaction and synergy of working with people.  Andi Owen, CEO of Herman Miller commented in the Journal's article "That unplanned kind of interaction that contributes so much to how we build relationships with people and how we build culture, those things are what are missing."
We won't know how the office market is ultimately impacted by the pandemic until a vaccine is readily available and widely distributed.  And even then, it could be another year or two until things shake out and we can truly begin to measure its long-term impact on office space.  Personally, I think there will be a lasting impact, but not nearly to the extent predicted a few months ago.  Most humans still crave personal social interaction over Zoom calls and most companies prefer to see their employees at the office, not their homes.
One last comment from the Journal article that speaks to changing opinions of work-from-home comes from Laszlo Bock, former HR chief at Google, "There's sort of an emerging sense behind the scenes of executives saying, This is not going to be sustainable."  I couldn't agree more.  I'll see you all back in the office – eventually.