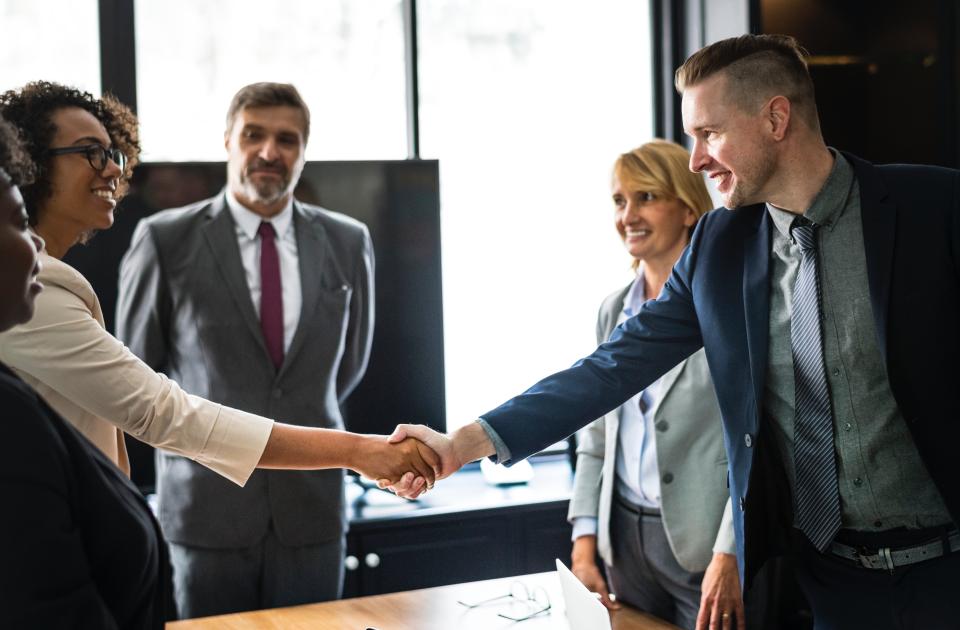 There has been an influx of new brokers into the Oklahoma commercial real estate industry the last few years. This has been good for our business as a significant number of brokers who got into this business in the 1980s and 1990s are nearing the end of their careers. This new wave of brokers has brought a new energy and more diversity. We continue to receive a number of inquiries from new people who want to get into brokerage, but getting a job in this business is not the easiest thing in the world as most commercial brokerage firms have no formal training program and there are limited positions at most firms. So, a few thoughts on how to get started.
Start Now
Get your financial house in order now.  Most new brokers will not make much money their first two or three years. Income uncertainty is one of the hardest attributes of the industry to get accustomed to. Start saving money, and learn to live on a budget. One of the best things about being a broker is that your future income is up to you, based on how hard you work, but it takes time to get there. 

Learn the City. Spend your spare time driving around; there is no substitute for putting your eyes on properties. Walk into buildings. Learn traffic flow and see the demographics first-hand. Read everything you can about real estate. Set Google alerts, read the Oklahoman and Journal Record. Pick out the best bloggers and industry leaders. Follow Civic leaders on Twitter. Do not stop at real estate, keep up with the economy and finance. Information is the key to success in this business. 
Do the Math. You can be successful in this business without being a mathematician, but knowing how deals work and being able to converse in numbers helps greatly. Take a class at the vo-tech, go back to college, take an online course – it will help. If you want to invest in your career early, CCIM has a great series of educational classes. Get involved in your community. This is true of any industry but real estate, in particular, is connected to the community. How the city goes, so goes real estate. Volunteer, serve on a board, get involved in making Oklahoma City better.
Get Your Foot in the Door

You have probably never seen an ad for a commercial broker and probably never will. Positions do not come up all that often, and most firms recruit from either the pool of existing brokers or from internal contacts. That, along with the lack of official training programs makes it particularly hard for new people to get started.
Call the top ten brokerage offices in town. Be prepared to get turned down, be flexible, and be respectful of time. Discuss the industry, what you want to do, and listen. You probably will not get a job out of the gate, but you will begin to get your name out there, and you will learn about the industry. Start networking. Join the CREC and come to meetings, talk to as many people there as you can. Reach out to people you know in the industry. Talk to bankers, contractors, attorneys – let everyone even remotely connected to the industry know your plans. You never know where your first lead will come from.

Be Flexible. You may not be able to start in the specialty or with the firm you want. There are certain firms in town who have a history of hiring young brokers. There are firms in town that probably are not the best fit. You will figure this out as you talk to people. 
You're Hired, Now What?

Now that you are hired, what do you need to do to be successful? 
Work hard. Yes, the same thing your mom and dad have been telling you your whole life. Commit fully. Put in the extra hours. You will be surprised at how much this sets you apart. Information is crucial in this business. Keep learning the City, the market and the players. The most successful brokers spend a ton of time on the phone – talking to clients, tenants, buyers, sellers, other brokers, attorneys – there is always information to be gathered. Take advantage of the resources of your firm. Internal databases, the go-to broker for different clients, software subscriptions, be the expert at CoStar searches and data mining, etc. 
Create a Brand. The real estate business has been slow to adopt technology, but that is changing. In the new world of real estate, you need a personal brand to stand out. Use Twitter, Facebook, Instagram, personal websites – put some time into a branding strategy. This will augment the platform and deal-flow you get from your firm. The combination of company resources and personal branding will be critical to your success in the future.