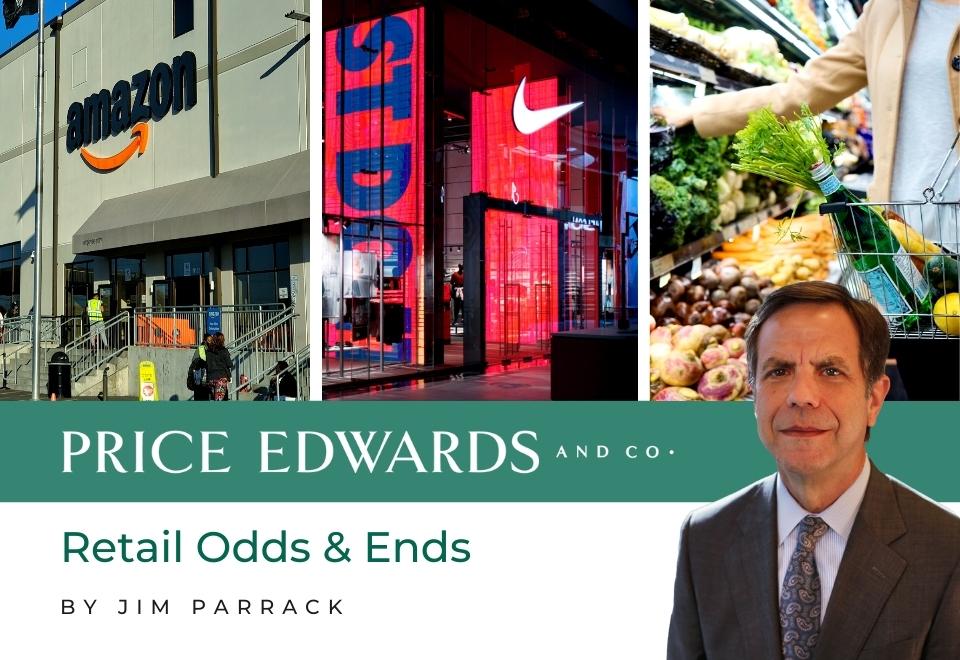 July saw some interesting, sometimes cutting-edge announcements from retailers. Some of these may interest only me, but here goes: 
Amazon invested in Grubhub. Granted it only bought 2 percent of the company but initially Amazon is going to use this foothold to provide free delivery to Amazon Prime customers. Does that move the needle for any of you? 
I thought this one was odd. Winco, of which there are three in the Oklahoma City metro, will no longer take credit cards. This is ostensibly to save money…credit card fees are expensive and grocery margins are thin so the logic makes sense. But the offset is…just how much business do you lose by not taking credit cards. Can't wait to see how this plays out. 

Macy's is trying a couple of new things. They are bringing back Geoffrey! Yes, they are going to have a Toys R Us section in a number of their stores. They are also starting an off-mall, small store format called the Market by Macy's. The stores will be about 1/5th the size of their typical store. Four were opened in 2021 and they'll have eight by the end of this year….the closest to us is Southlake. I don't think Oklahoma has ever gotten the true Macy's experience as their stores here haven't been as nice or carried as good of selection as their east coast stores.  

As we know, Kroger's has really focused on their digital footprint and delivery from their warehouses (you may recall that Kroger's partnered with the British grocery delivery company, Ocado, to speed along this effort). We've seen this in OKC as we have no stores but now have a Kroger warehouse and delivery. As part of this focus, Kroger's has started a paid subscription program (customer loyalty program). You get free delivery for orders over $35 and delivery in 2 hours or less. There are two levels to join the program with slightly different benefits (fuel points are part of this)…$59 & $99. Still hopeful we'll get a physical Kroger's store at some point. 

Not sure what to think about this one. Nike has opened its first Nike Style store in Seoul. The store 'blurs the line between physical & digital'; what does that mean? Well, it's in a cool, trendy neighborhood….it blurs gender lines (?)…..it has a 'Nike by You' zone that allows you to personalize your purchases, QR codes are scattered throughout the store that take you to a virtual reality experience, lots of art, and, of course, a content studio where you can satisfy your social media addiction. Maybe this is the start of the Metaverse in retail. Don't expect one here anytime soon! 

Ok, back to Amazon. They want to be zero carbon by 2040….a lofty goal for a company that uses trucks, planes and trains to deliver products. One of their first steps was to order 100,000 electric delivery trucks made by Rivian….several of which are supposed to be in service by the end of the year. (Not sure how those coal-fired electric generation plants factor into that zero carbon calculation?!). Walmart, not to be outdone, has ordered 4,500 electric delivery trucks from Canoo and some from Ford as well. I'm sure the Texas electrical grid welcomes this additional usage. 
Lastly, Best Buy is opening their first 5,000 square foot 'digital first' store in Monroe, North Carolina. The store encourages you to shop, get advice (from the Geek Squad), and check out digitally. Not sure why you need a store to do this, but, hey, maybe it's a way around having a teenager make you feel stupid about not being able to hook up your TV sound bar.